About REO
Rural Employment Opportunities is a statewide nonprofit organization. We work together with more than 300 rural families as they struggle to support themselves and their families. Through REO, adults and children access and complete education, job-training and individual development programs that lead to year-round employment, improved family income and greater economic security. REO provides outreach and services in 43 of Montana's 56 counties to more than 400 adults and 900 children.
Mission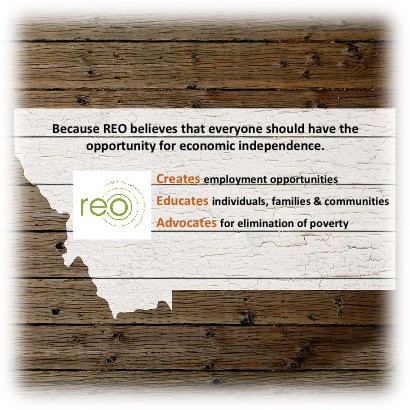 Organizational History
REO began operating as a 501(c)(3) nonprofit corporation in May, 1981 as the Montana Farmworker Council and changed its name to Rural Employment Opportunities in 1984. REO has provided services to low-income and very low-income adults and children with funding from a variety of federal and state grants. Since 1981, a direct grant from the U.S. Department of Labor (currently, the National Farmworker Jobs Program) has allowed REO to serve migrant and seasonal farmworkers. Since 1988, grants from the Montana Office of Public Instruction – Migrant Education Program enabled REO to add services for the children of migrant agricultural workers. In 2006 REO implemented its first asset development program in partnership with Montana Credit Unions for Community Development and with funding from the Montana Department of Public Health and Human services through its Family Economic Security (FES) Project. This program continues today as Access Opportunities. In 2008, REO became a full-member of Montana Shares, a partnership of more than 40 nonprofit organizations. Some private donations and grants allow for limited services to those not eligible for the grant-funded services.
How You Can Help
REO is currently seeking funding for individual/family asset-development projects, for community poverty reduction programs and to build organizational capacity needed to reach these program goals.  Click the "Donate" button in the upper right corner and make your tax deductible donation to REO today and help your fellow Montanan's succeed!