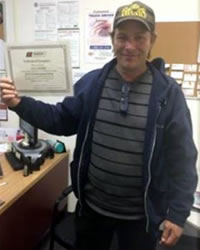 Jeffrey
Jeffrey was a seasonal employee at a sugar beet plant and wanted to upgrade his skills to obtain a higher paying full-time job by earning a High Pressure Boiler License. As a seasonal agricultural worker, Jeffrey was eligible for REO's National Farmworker Jobs Program (NFJP). REO paid for his Boiler Operator classes which led to a Certificate of Completion. Then Jeffrey was indeed employed full time at the sugar beet plant with the job title of Boiler Operator. Upon completion of his exam, final paperwork and nearly 1000 hours of "on the job" training, he will be a licensed Boiler Operator, Third Class. With a full-time job and an increase in wages, Jeffrey is looking forward to building a strong and economically secure future.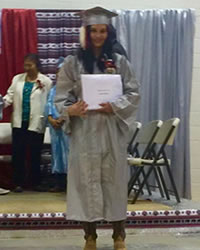 Chalsea
Chalsea graduated from Chief Dull Knife College with her Associate's degree in Animal Science.  She is now employed with the Lame Deer Jr./Sr. High School.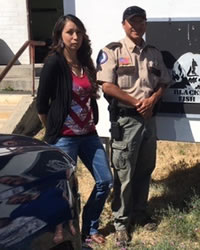 Duey
Duey had been a long-time seasonal ranch worker on the Blackfeet Reservation in NW Montana. Although he had an Associate's degree in Natural Resource Management, he could not get his foot in the door in that field to build a solid economic future.
REO's first attempt at setting up a work experience for Duey as an outfitter fell apart but he was determined to obtain successful employment on the reservation he loved, Duey persisted in his search for a career in natural resources, visiting every possible business and tribal agency on the reservation. Working in partnership with REO, Duey was able to find a placement with the Blackfeet Fish & Wildlife as a Game Check Station Operator for a period of three months. Duey loved the work and his supervisors were impressed by his work ethic and performance. In order to become a fully vested Game Warden, the next step was for Duey to attend the MT Law Enforcement Academy for the Law Enforcement Basic Course. REO helped out with the tuition, basic police supplies, and transportation costs. Duey graduated successfully in June of 2016 and began as a probationary Game Warden for the Tribe. He is currently a permanent employee earning $15.20/hour with benefits.
Duey has been an exemplary NFJP participant. Because of his perseverance and dedication to achieving his career goal and his desire to give back to his community, he succeeded. Now his wife, Cassie, is an NFJP participant completing a program at Blackfeet Community College to become an Emergency Medical Responder/Technician.
Shawn
Shawn had been working part-time for a local rancher for several years. He sought REO's partnership to obtain his CDL. His employer assured him he would be hired full time if he had the license. Shawn was enrolled with the Sage Trucking Co. and completed the six week course with flying colors. He is now employed full time at $15/hour and looking forward to building a successful future.